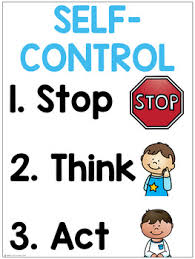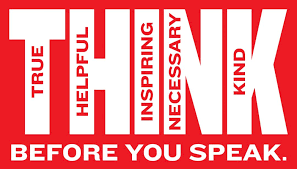 HAPPY MAY!
Our very last "Fruit of the Spirit" is SELF-CONTROL and I bet all of us wished we had a bit more of it! 

   A self-disciplined life is one that honors God and shows grace to those around us. The decision is ours but the power to do it comes from our Lord.  I pray God will harvest self-control in each of us as we live out our days.  A month or so ago, I gave grades 3-5 a "THINK" card provided to us by one of our parishioners from church.  I think if you ask your child what it means, they will be able to tell you! 
T=Are your words true?
H=Are your words helpful?
I= Are your words inspiring?
N=Are your words necessary? 
K=Are your words kind?
As we begin to draw closer to the end of the school year, we will not be slowing down. As the kindergartners learn about Noah's perseverance, they will learn their new Bible verse from Ecclesiastes 9:10, which says,  "Whatever you do, do it well with all your might."  The first graders will continue to be learning about Christ's parables and miracles from the book of Luke and will have their activity book to show you at the end of the school year. The second graders are learning a new "I AM" verse from Jesus which states, "I am the way, the truth, and the life. No one comes to the Father except by Me."  (Ask your child to sing it for you!)  They will be finishing up their "Getting to Know Jesus A~Z" books and will have lots to share with you in June.  The third graders will begin working in their prayer journals for the remainder of the year. They will learn that PRAY means: P=Praise, R=Repent, A=Ask and Y=Yield.  The fourth graders are discovering the many ways the Israelite people learned how to trust and obey their Lord even in the most challenging of times. They will also be learning that the Ten Commandments are not suggestions but commands to help us live healthy lives! Last but not least, the fifth graders are continuing their study in the New Testament as they discover that the many parables that Jesus taught are clues about the "Kingdom of God" here on earth.  They will also learn about the special plan Jesus has for their lives as they memorize one of the most famous verses in the Bible from Jeremiah 29:11-13  "For I know the plans I have for you says the Lord.  They are plans for good and not for evil.  I want to give you a future and a hope.  And when you pray, I will listen and when you seek Me, you will find me when you seek Me with all your heart."   Wow!  Notice the promise God makes with each of us who desire to develop a partnership with Him. 
Please help your youngster to finish strong this year by claiming the verse from Philippians 4:13
"I can do all things through Christ who strengthens me!"
Blessings,
Sue O'Connor